Description
3M One Touch Pro Earplug Dispenser 391-0000, Blue, Hearing Conservation 1 EA/Case
3M One Touch Pro Earplug Dispenser gives workers convenient access to hearing protection products. A "No-Waste Funnel" accurately delivers earplugs with a slight turn. It typically dispenses a single earplug with each turn, giving the worker more control with less chance of spillage and waste of earplugs.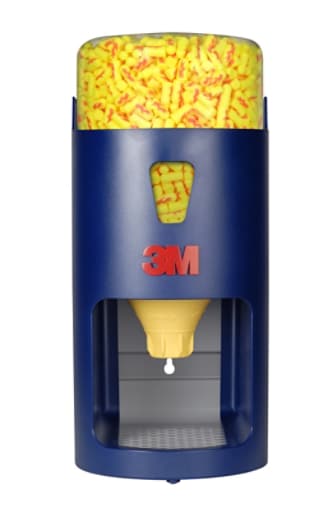 3M One Touch Pro Earplug Dispenser makes it easy for workers to get the earplugs they need on the job. The dispenser holds 400-500 pair of earplugs that are dispensed one at a time. A simple turning motion drops an earplug into the worker's hand. Because the dispensing of earplugs is controlled, there should be little waste. Our dispenser also makes it more sanitary for workers to get their earplugs. It eliminates the practice of workers reaching into a bin and touching multiple earplugs while taking the ones they need. This feature is especially important considering that workplace hands are often soiled with various contaminants.
A durable dispenser that may be used indoors and out
The dispenser is made from durable ABS and POM plastic to withstand harsh environments, whether that is indoors or outside. The plastic construction holds up under sunlight, rain and wind. When placed outdoors, the dispenser will shelter and keep earplugs safe from rain, sleet and snow. Drainage holes won't allow rainwater to collect in the bottom of the dispenser.
Locate earplugs wherever it's most convenient for workers
When earplugs are conveniently located, it often boosts hearing protection compliance rates among workers. This dispenser may be placed on flat, level surfaces such as countertops, or wall mounted in a convenient place. For wall mounting applications, a powder-coated steel backplate is included.
An environmentally sound option with that's also more economical
Because the dispenser uses earplugs that are not individually wrapped in plastic, there is less packaging waste, workers don't stuff their pockets with bits of plastic wrap, or worse yet drop the wrappers as litter. Additionally, earplugs sold in this manner are generally sold at a more economical price point.
Dispenser is easy to refill with popular earplug products
When the plastic canister holding the earplugs is empty, simply replace it with a new one. The dispenser is compatible with the following 3M earplugs:

3M Classic Earplugs
3M Classic Superfit 30 Earplugs
3M Yellow Neons Earplugs
3M Yellow Neons Large Earplugs
3M Yellow Neons Blasts Earplugs
3M E-A-Rsoft Superfit Earplugs
3M 1100 Earplugs
3M E-A-Rsoft FX Earplugs

Hearing conservation solutions made easy

The 3M One Touch Pro Dispenser strives to help boost compliance among workers for using hearing protectors. By making it more convenient to access earplugs, 3M hopes to make a positive difference in safeguarding the hearing of workers.

Dispenser makes it easy for workers to access earplugsA simple turn of the hand drops earplug into a worker's hand one at a timeDrained catch tray, wind side shields and durable plastic construction safeguards earplugs in outdoor locationsVersatile design allows for placing on countertops or wall mountingBulk style dispenser eliminates waste from individually wrapped earplugsAccepts 8 different 3M Earplugs in refill bottlesRefill bottle not included
3M ID: 7100064963
UPC/GTIN: 00078371668037
View All
Close