3M E-A-R Push-Ins Metal Detectable Corded Earplugs 318-3000, in Poly Bag 2000 EA/Case
SKU:

318-3000

UPC:

10080529190144

MPN:

7000127656

Condition:

New

Shipping:

Calculated at Checkout
Description
3M E-A-R Push-Ins Metal Detectable Corded Earplugs 318-3000, in Poly Bag 2000 EA/Case
3M E-A-R Push-Ins Metal Detectable corded earplugs were specially developed for food processing and other industries where it is critical to keep earplugs from contaminating products and processes. Recognized by most metal-sensing systems, these earplugs feature an implanted stainless steel ball bearing in the plug and metal particles in the cord.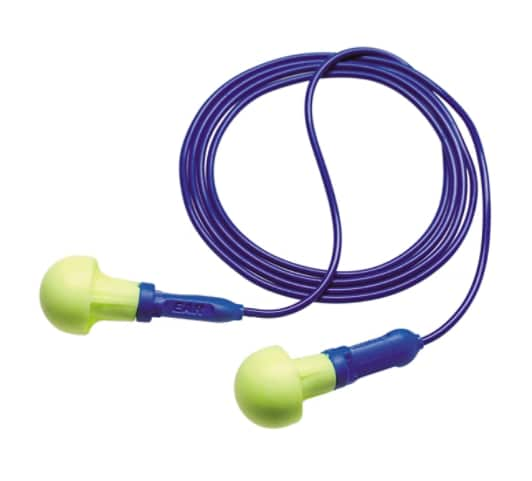 3M E-A-R Push-Ins Metal Detectable corded earplugs feature a push-to-fit design with a flexible stem to help keep the soft foam tip clean, even when hands are dirty. There is no need to roll the foam before fitting. Our earplugs are packaged in a poly bag to keep them clean prior to use. Recommended applications include assembly and mechanical, chipping, chiseling, cleaning, drilling, furnace operations, grinding, heavy equipment operations, machining, metal repair, painting, pouring/casting, power fastening, riveting, sanding, sawing and welding.

Not only is noise present in our daily routines and recreational activities, but millions of Americans work in hazardous noise on a daily basis. Estimates from the National Institutes of Health suggest that approximately 15 percent of Americans (26 million people) between the ages of 20 and 69 have high frequency hearing loss due to exposure to noise at work or during leisure activities. Hearing loss due to noise is almost entirely preventable by judicious use of hearing protection.
Stainless steel bead inside the earplug and metal powder in cord for metal detectability in the food industry.(Soft, flexible foam conforms to the unique shape of each ear for comfortable noise reductionFlexible stem makes fitting easy without touching the foam tip, keeping the tip clean even when hands are dirtyPoly bag keeps earplugs clean before useNoise Reduction Rating (NRR)* 31 dB. CSA Class AL.
3M ID: 7000127656
UPC/GTIN: 10080529190144
View All
Close