Regular MSA Altair 4XR calibration ensures the accuracy and reliability of your gas monitor's performance.
Your safety is our top priority, so we've created detailed instructions on MSA Altair 4XR calibration to assist you in keeping yourself and your work environment safe.
Follow our expert step-by-step guide to understand how to manually calibrate your MSA Altair 4XR correctly.
Preparing to Calibrate Your MSA Altair 4XR
Before beginning calibration, make sure you're in a fresh-air environment free of harmful gas.
To manually calibrate the MSA Altair 4XR, you'll need a regulator, calibration gas, and the calibration cap with tubing that came with the 4XR.
Check out our MSA Calibration Kit for the Altair 4XR if you need a regulator and calibration gas.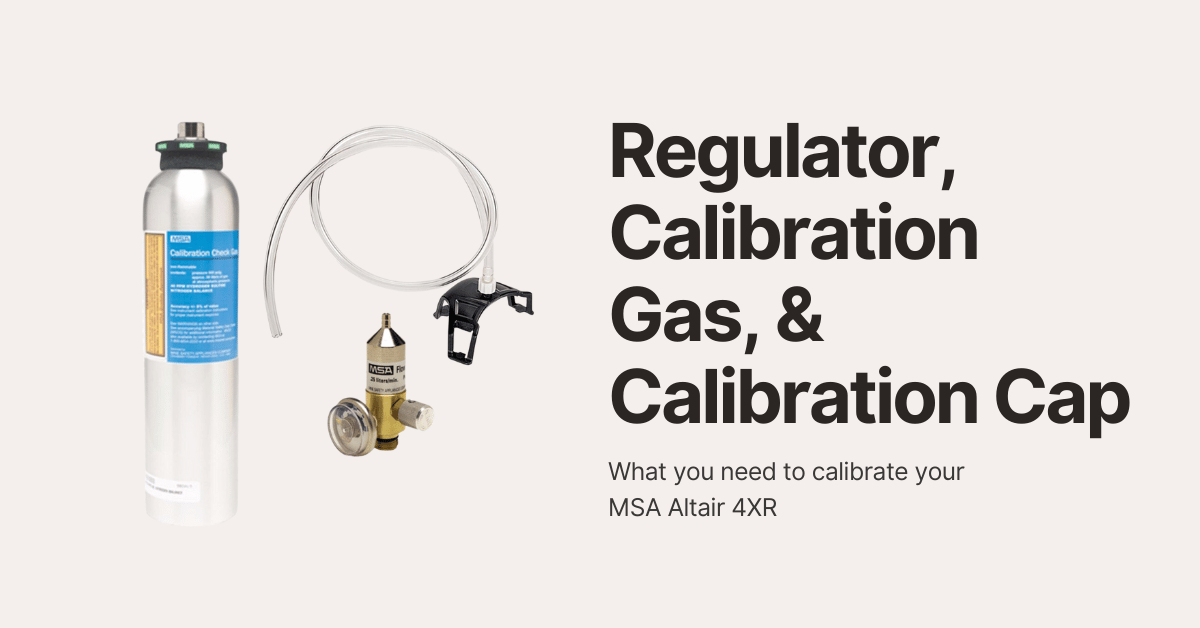 Calibrating Your MSA Altair 4XR Gas Monitor: Step-by-Step
Initiating Normal Reading Mode:

Make sure you're in a fresh-air environment free of hazardous gas.
Press and hold the center button of the MSA Altair 4XR to turn it on.
The monitor will run through several self-checks after turning it on.

Entering Calibration Mode:

Once in normal reading mode, press and hold the "UP" arrow for 3 seconds.
Wait until the device beeps and prompts you to zero the monitor with a ZERO CAL message (this is the sensor refresh on the MSA Altair 4XR).

Confirming Calibration Mode:

When prompted on the screen, press the center button once. This action will initiate the zeroing mode.
Set the monitor down and prepare your calibration tools: calibration gas, regulator, and calibration adapter.

Setting Up the Regulator:

First, open the regulator valve.
Attach the opened regulator to the gas cylinder. Important: Ensure the regulator is opened before attachment to avoid damaging the calibration gas cylinder.
When you hear gas spewing out, close the regulator immediately.
Continue to screw in the regulator until it's firmly in place, but avoid overturning.

Connecting the Tubing:

Attach the tubing to the hose barb on your regulator.
Ensure the opposite end of the tubing connects securely to your calibration adapter.

Applying Calibration Gas:

Once the monitor shows ZERO PASS, indicating a successful Zero Cal, it will flash SPAN CAL?
Press the center button to confirm calibration.
Clip the calibration adapter into your gas detector and turn on your gas.
Double-check that the calibration gas values displayed on the screen match those on your calibration gas cylinder.

Finalizing Calibration:

After the calibration process completes, the detector will beep and flash SPAN PASS, indicating you can turn off your gas.
Carefully detach the calibration adapter from the MSA Altair 4XR.
The device will revert to normal reading mode shortly.
Congratulations! Your MSA Altair 4XR gas monitor is now calibrated.
Remember to note down these readings in your calibration log, and continue regularly calibrating your device to ensure its functioning properly.
If you're in need of a new MSA Altair 4XR or a MSA calibration kit, shop with Jendco Safety Supply for great service and great pricing.
Recent Posts
Regular MSA Altair 4XR calibration ensures the accuracy and reliability of your gas monitor's p …

Knowing the difference between Type I and Type II hard hats is more than just a personal choice—it's …

The new ANSI Z359.14-2021 standard, approved in June 2021, introduces significant changes to the …