Description
3M Supplied Air Hose W-2929SR-50, 50 ft, 3/8 in ID, Schrader Fittings, High Pressure, Coiled 1 EA/Case
Can be used on 3M High Pressure Compressed Air Systems. Comes with 1/4 inch FPT, 1/4 inch body size Shrader fittings. Coiled hoses should be used in single length only. They cannot be combined.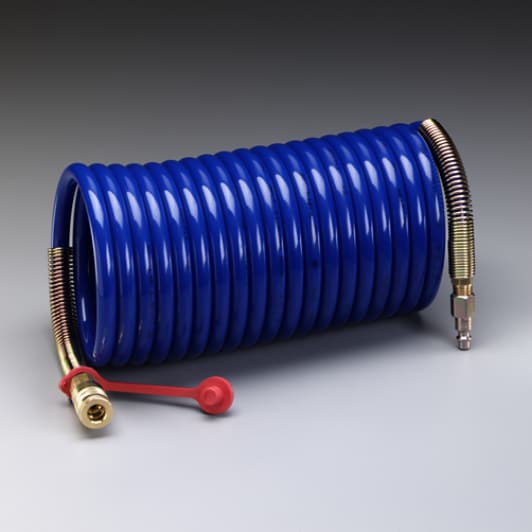 3M Supplied air respirators require a source of clean breathing air such as plant air systems or bottled air. This clean, breathable air can be delivered to hoods, helmets, full facepieces, half facepieces and loose-fitting facepieces. Supplied air respirators offer many features over traditional respiratory protection, such as cooling or heating incoming air; fit testing only required for tight-fitting facepieces; and low maintenance. Complete systems include a supplied air hose, an air regulating valve, a breathing tube, and a helmet, hood, or other facepiece. Potential benefits include:


A cost-effective way to provide a high level of respiratory protection
3M's range of supplied air valves can cool or heat air by up to 50°F (28°C).
No filters, cartridges, or batteries to maintain
Supplied air provides no additional breathing resistance to the wearer

This product is made to order. Lead times for W-2929 Supplied Air Hoses may be longer than other 3M Supplied Air Products.. . . . . . . . .
3M ID: 7010342203
UPC/GTIN: 00051131499423
View All
Close